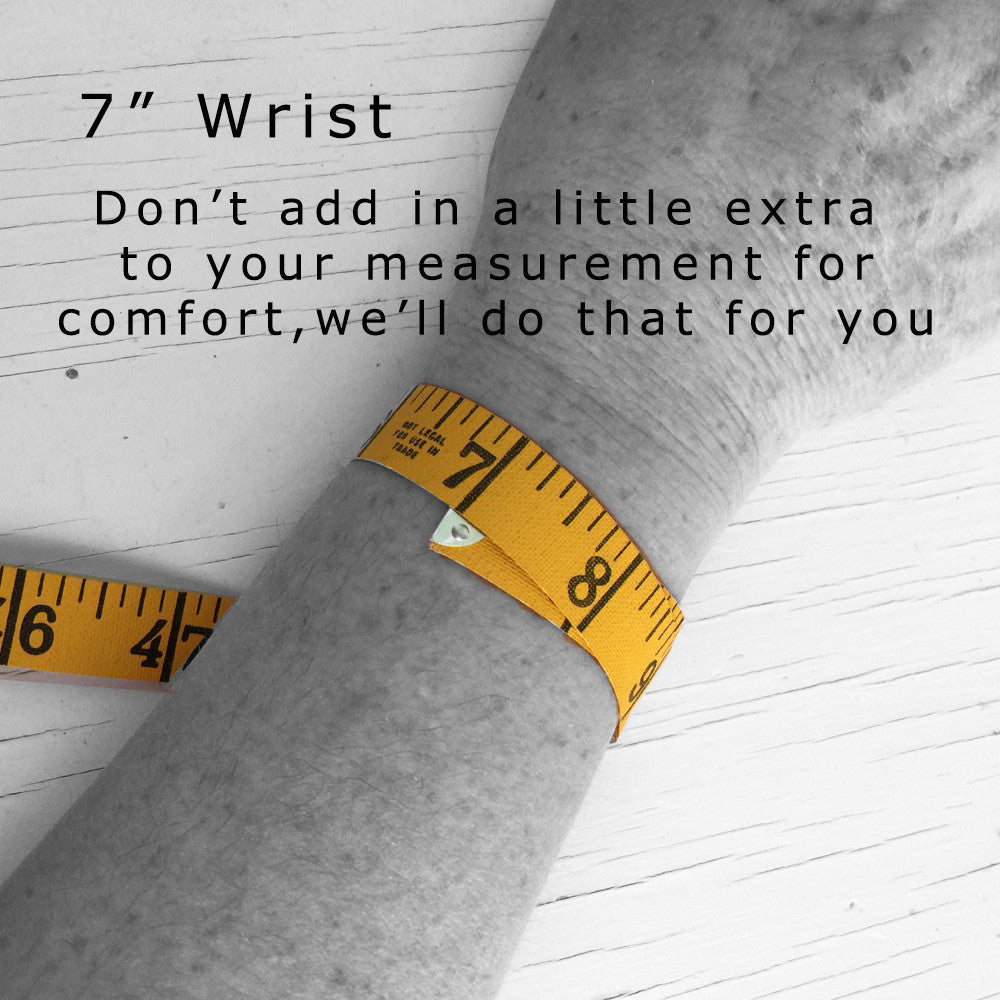 How To Measure Your Wrist for Cuff Bracelets
What cuff bracelet size you should order? The best and easiest way is to use a measuring tape, the graphic shows a 7" wrist measurement, I create my cuff bracelets to comfortably fit the measurements you provide. You will not need to add in a little extra as I will be sizing the cuff up to fit comfortably and not too snug. If you do not have a fabric tape measure, use a flat piece of ribbon, mark it accurately and then measure that length alongside a ruler. 
To keep your cuff bracelet in great condition, always put it on as shown: 
Create a C shape with your hand to cradle the cuff and mimic the cuff shape, place one end of the cuff into the soft hollow within your wrist, holding the cuff in your hand as shown, roll it onto your wrist. To remove, do the opposite! How to NOT remove your cuff bracelet, don't pull from the top, don't try and pull straight off, never remove a cuff by bending one side open as this will eventually cause metal failure from overworking.
 Artist's Note: The work I bring to you is conceived and created entirely in my Asheville, North Carolina studio. It is infused with inspiration from my deep connection and appreciation of Nature, combined with my curiosity, and a desire to honor the balance of dark and light within each of us. Each piece I craft reflects quality, artisanship, and just a touch of magic.
Check out what's on the bench via Instagram
Custom Jewelry Artisan Crafted in Asheville, N.C.
© 2019 E. Green. Designs and images all rights reserved.