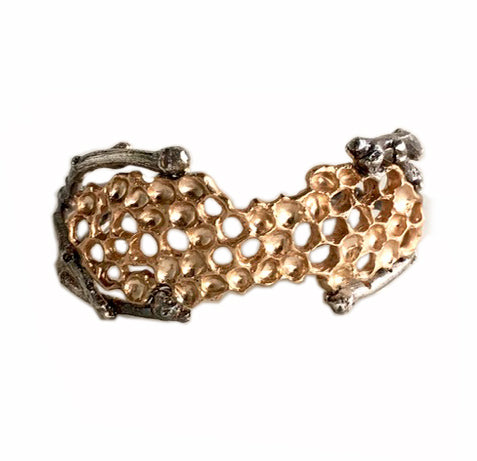 Honeycomb Cuff Bracelet - Wild Honey Tree
It is said that bees were formed from the tears of the sun, and ancient cultures gave them the task of acting as a bridge between the natural world and the underworld. Wild honey bees will create their hives in crevices, in the walls of abandoned buildings and in hollow trees. The romantic notion of an intrepid bee charmer shimmying up a tree to collect that wild honey served as some of the inspiration for this cuff bracelet.
A powerful talisman for Apiarian Artists, Keepers of Bees, and Summer Sprites. Add this to your cherished collection.
Bronze Honeycomb | Sterling Silver | Custom Cast | Sealed Finish
ADDITIONAL PRODUCT DETAILS
Solid and very comfortable to wear

A fine slice of bronze honeycomb is paired with sterling silver branches to create this dual metal cuff bracelet
FITTING


WRIST SIZE MEASUREMENT:

Please see last image for an example of how to measure your wrist for correct sizing. If you do not have easy access to a fabric measuring tape, you can use a strip of paper and then place your strip alongside a ruler for a measurement.

Don't see your size? Contact us for a custom size request.
SHIPPING


All products are custom cast to order. Please allow 14 days creation time prior to shipping. Read more about our

shipping terms

and store policies.

 Artist's Note: The work I bring to you is conceived and created entirely in my Asheville, North Carolina studio. It is infused with inspiration from my deep connection and appreciation of Nature, combined with my curiosity, and a desire to honor the balance of dark and light within each of us. Each piece I craft reflects quality, artisanship, and just a touch of magic.
Check out what's on the bench via Instagram
Custom Jewelry Artisan Crafted in Asheville, N.C.
© 2019 E. Green. Designs and images all rights reserved.