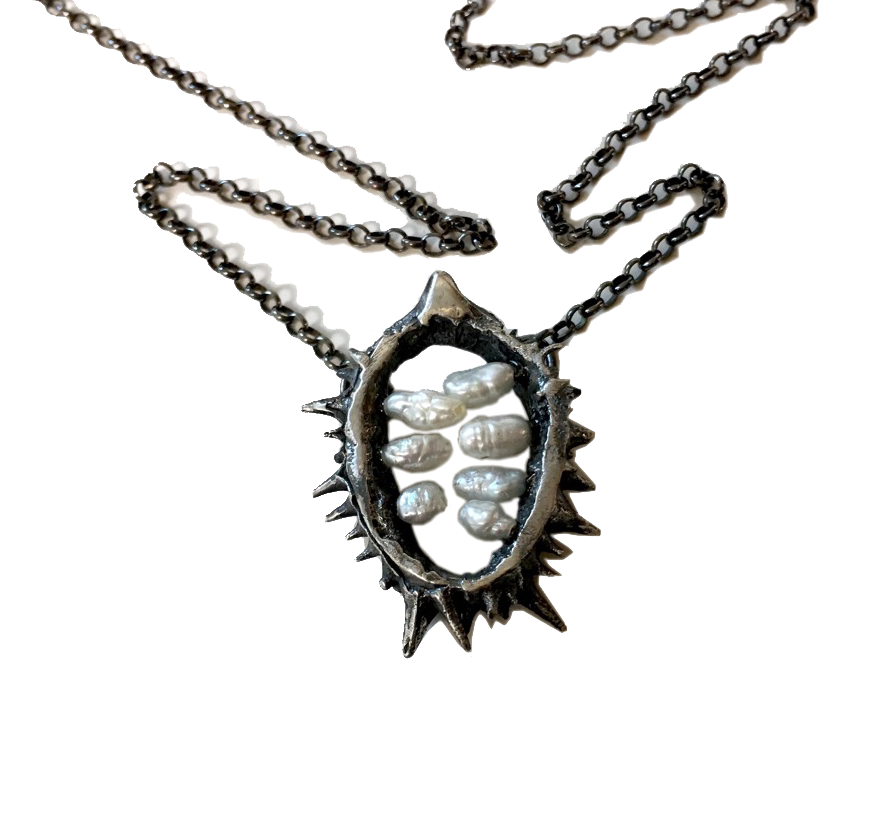 7 Deadly Seeds Datura Pod Necklace
Not for the faint-of-heart, the spiked Datura seeks to protect it treasures fiercely, and Oh, what treasures it holds! Long known for their magical qualities and potent poison, these seeds are a sacred secret for sorcery and psychedelia. An enigma of Nature that can be deadly if mishandled, or it just might propel you to another dimension, this is one dark secret that you'll want to share.
Prescribed for Seekers of Higher Consciousness, Flights of Fancy, and Therianthrope Fashionistas. You will know if you are meant to have this special treasure.

Sterling Silver | Pearl | Custom Cast | Sealed Finish
ADDITIONAL PRODUCT DETAILS
Cast in sterling silver with 7 pearls hidden within

Suspended on an 18" sterling chain

Datura Pod measures 1.25" x 1"
SHIPPING


All products are custom cast to order. Please allow 7 - 14 days creation time prior to shipping. Read more about our

shipping terms

and store policies.

 Artist's Note: The work I bring to you is conceived and created entirely in my Asheville, North Carolina studio. It is infused with inspiration from my deep connection and appreciation of Nature, combined with my curiosity, and a desire to honor the balance of dark and light within each of us. Each piece I craft reflects quality, artisanship, and just a touch of magic.
Check out what's on the bench via Instagram
Custom Jewelry Artisan Crafted in Asheville, N.C.
© 2019 E. Green. Designs and images all rights reserved.