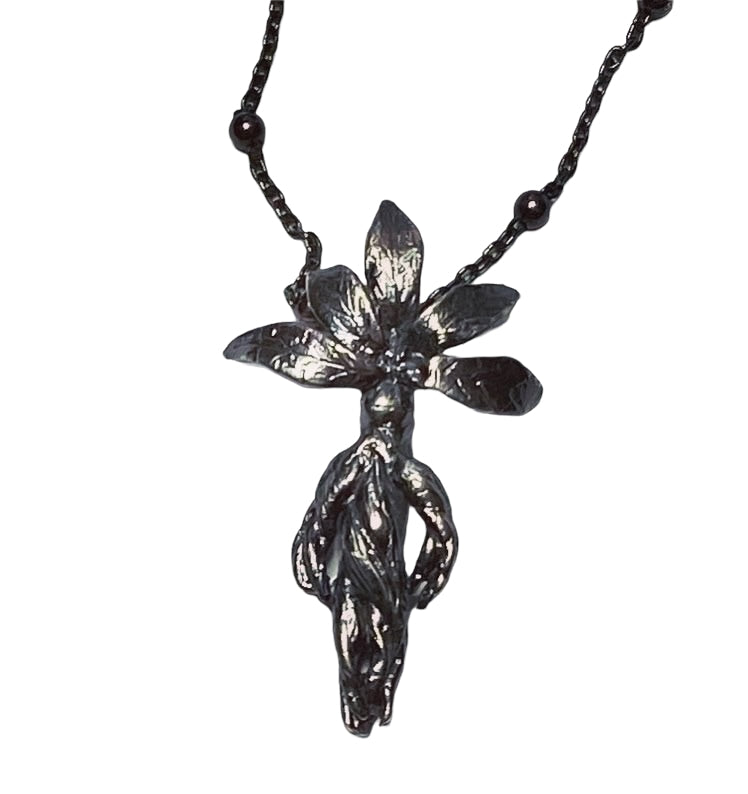 Mini Mandrake Sterling Charm Necklace - Silver Mandragora
A Mandrake charm with twisting roots and curling leaf crown, painstakingly formed in wax and then cast in solid sterling silver is suspended on a delicate sterling silver ball and cable chain.
Mandrake root is known to be one of the 7 baneful (poisonous and psychotropic) herbs used to crate the classic witches' Flying Ointment. Many of the herbs used in this famed ointment are of the Solanaceae family of plants.  The Mandrake is used today in salves to help ease migraines, nerve and joint pain as well as easing anxiety. 
Each Mandrake charm is made to order, please allow up to 14 business days creation time prior to shipment. 
Cast in sterling silver, suspended on an 18" sterling chain.
 Artist's Note: The work I bring to you is conceived and created entirely in my Asheville, North Carolina studio. It is infused with inspiration from my deep connection and appreciation of Nature, combined with my curiosity, and a desire to honor the balance of dark and light within each of us. Each piece I craft reflects quality, artisanship, and just a touch of magic.
Check out what's on the bench via Instagram
Custom Jewelry Artisan Crafted in Asheville, N.C.
© 2019 E. Green. Designs and images all rights reserved.