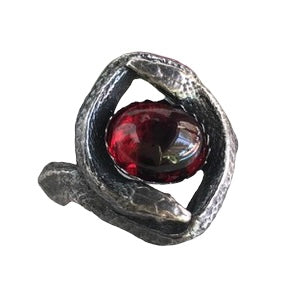 "The Twins" Double Snake Ring in Sterling Silver with Choice of Gemstone
A pair of twin snakes join to create a subtle classic eye amulet with your choice of vibrant gemstone pupil, each is highly detailed and cast in sterling silver. A slightly heavier ring than the adjustable single snake ring, this one has all the tiny details a true snake lover looks for. Double snakes signify unity, change, duality and eternal kinship, let this act as a talisman to bring harmony and balance into your daily life.

This Charmer and Protector of Relationships is perfect for Couples, BFF's, Wonder Twins, and the Self-Actualized. Give as a gift or add this to your cherished collection.
Sterling Silver
Labradorite |or| Turquoise |or| Garnet |or| Amethyst |or| Green Onyx
Custom Cast | Sealed Finish
ADDITIONAL PRODUCT DETAILS
Natural stones have slight variants in color
FITTING
If you do not see your ring size, contact us directly to place a custom order.
SHIPPING


All products are custom cast to order. Please allow 14 days creation time prior to shipping. Read more about our

shipping terms

and store policies.

Artist's Note: The work I bring to you is conceived and created entirely in my Asheville, North Carolina studio. It is infused with inspiration from my deep connection and appreciation of Nature, combined with my curiosity, and a desire to honor the balance of dark and light within each of us. Each piece I craft reflects quality, artisanship, and just a touch of magic.
Check out what's on the bench via Instagram
Custom Jewelry Artisan Crafted in Asheville, N.C.
© 2019 E. Green. Designs and images all rights reserved.