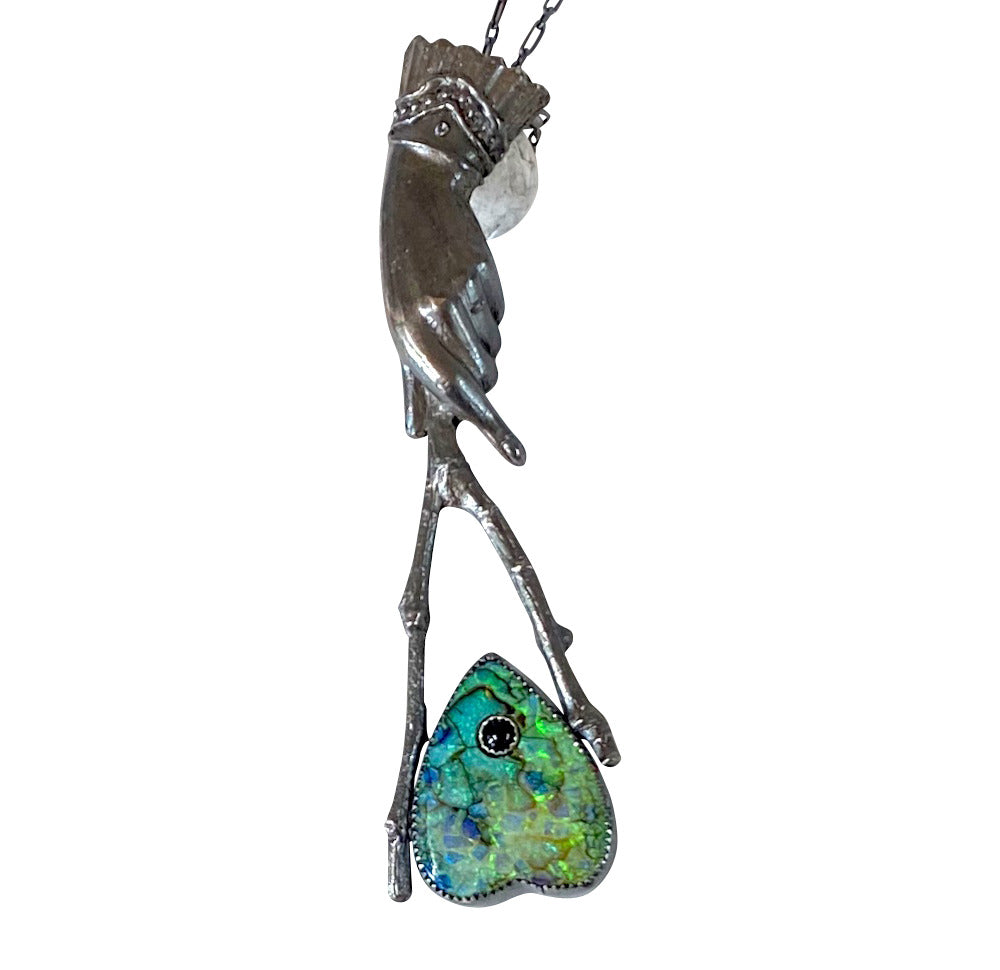 Spirit Seeker Opal Planchette Pendant ★
A graceful Shibuichi hand holding a dowsing rod traps a lab grown opal planchette, the "viewer" is a black onyx cabochon suspended on a 20" Chain.
A seemingly perfect blend of Earth magic and science, dowsing rods have long been used as tools of discovery. Their display is almost magnetic, as they source and identify elements and minerals, such as water and iron. Some believe they can even be used to as a guide to identify spiritual or paranormal energy. 
This extra large pendant measures just under 5" long, see all images for scale.

Suspended on a 20" sterling silver chain

Shibuichi is a unique Japanese alloy blending sterling silver and copper to create a unique metal rarely used in the US. Shibuichi takes on a beautiful dark patina and achieves a warm blushing silver at polished high points.
 Artist's Note: The work I bring to you is conceived and created entirely in my Asheville, North Carolina studio. It is infused with inspiration from my deep connection and appreciation of Nature, combined with my curiosity, and a desire to honor the balance of dark and light within each of us. Each piece I craft reflects quality, artisanship, and just a touch of magic.
Check out what's on the bench via Instagram

Compassion and Sustainability are Core Values at Chase and Scout. 

No living beings were harmed or killed in the creation of this unique piece of jewelry. While highly detailed and very realistic, I do not support the destruction of nature for fashion. Please see our FAQ page for ethical sourcing questions.
Custom Jewelry Artisan Crafted in Asheville, N.C.
© 2019 E. Green. Designs and images all rights reserved.