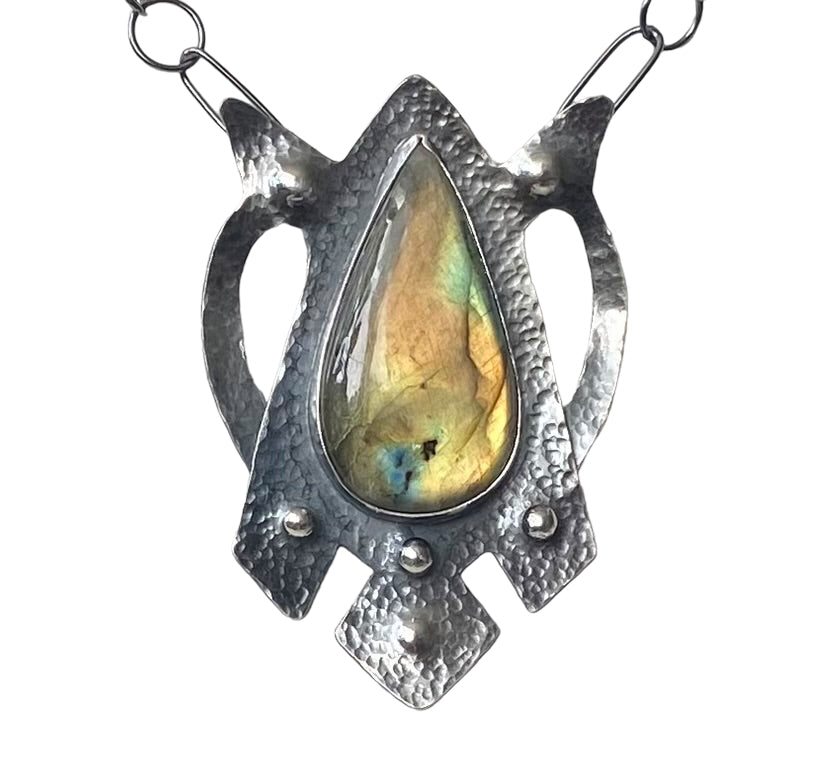 Queen of the Realm Pendant Sterling and Labradorite
Hand hammered sterling silver pendant in an Arts and Crafts or Mission (circa 1900) style with large golden labradorite and a handmade 20" sterling long link and ring chain. The chain is a large open link that allows for the chain to be shortened by using the clasp to attach in at any point along the chain. 
This necklace is large enough to stand on it's own, or can be paired with lighter necklaces for a layering effect. 
 This pendant was created for the one who creates and sustains their own realm, a place of balance, creativity, strength, and compassion. 
Artist's Note: The work I bring to you is conceived and created entirely in my Asheville, North Carolina studio. It is infused with inspiration from my deep connection and appreciation of Nature, combined with my curiosity, and a desire to honor the balance of dark and light within each of us. Each piece I craft reflects quality, artisanship, and just a touch of magic.
Check out what's on the bench via Instagram
Custom Jewelry Artisan Crafted in Asheville, N.C.
© 2019 E. Green. Designs and images all rights reserved.