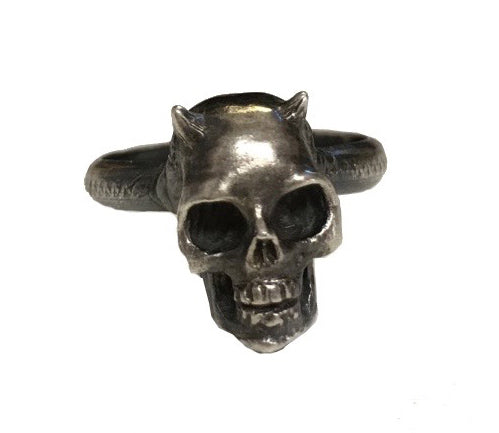 Little Horn Skull Ring - LAST ONE
 Those tiny horns! So many skull rings out there are awkwardly oversized, especially made for giant hands. This diminutive skull is handcrafted with a more elegant hand in mind. A staff and customer favorite at the infamously famous Blackmail Boutique on South Congress in Austin Texas.
Specify Ring Size in the Notes section at checkout
Cast in solid sterling silver and burnished with a deep dark patina.
Artist's Note: The work I bring to you is conceived and created entirely in my Asheville, North Carolina studio. It is infused with inspiration from my deep connection and appreciation of Nature, combined with my curiosity, and a desire to honor the balance of dark and light within each of us. Each piece I craft reflects quality, artisanship, and just a touch of magic.
Check out what's on the bench via Instagram
Custom Jewelry Artisan Crafted in Asheville, N.C.
© 2019 E. Green. Designs and images all rights reserved.