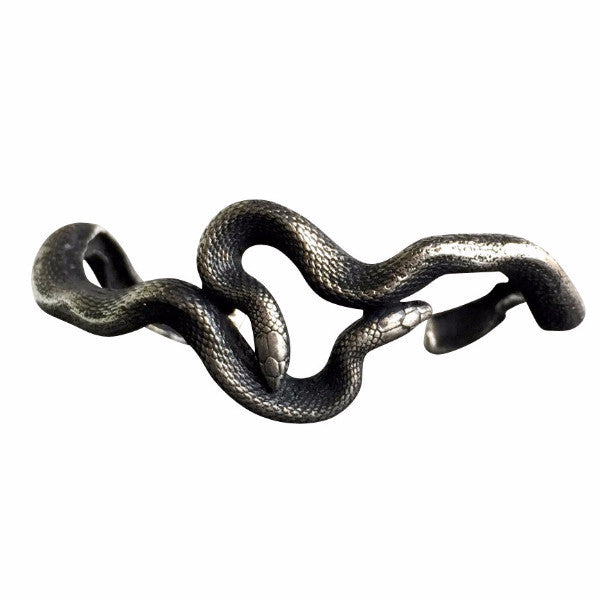 Ouroboros Double Snake Cuff
Live life to its fullest and embrace your vitality with this striking tribute to the nature of continuous change and rebirth. The entwined ouroboros snakes evoke spirits of eternal remembrance and love everlasting. Design inspired by both Victorian snake jewelry, as well as the Art Nouveau movement of realistic naturalism.
Prescribed for Incurable Romantics, Soul Survivors, and Natural Healers.
Add this to your cherished collection.
Sterling Silver | Custom Cast | Patinaed | Sealed Finish
ADDITIONAL PRODUCT DETAILS
As you wear your bracelet the patina will soften over time and the silver will be more pronounced

Bracelet will comfortably fit a 6.5" wrist.

Please see fitting details for information on custom sizes.
FITTING


WRIST SIZE MEASUREMENT:

Please see last image for an example of how to measure your wrist for correct sizing. If you do not have easy access to a fabric measuring tape, you can use a strip of paper and then place your strip alongside a ruler for a measurement.

Don't see your size? Contact us for a custom size request.
SHIPPING
All products are custom cast to order. Please allow 14 days creation time prior to shipping. Read more about our

shipping terms

and store policies.

Artist's Note: The work I bring to you is conceived and created entirely in my Austin Texas studio. It is infused with inspiration from my deep connection and appreciation of Nature, combined with my curiosity, and a desire to honor the balance of dark and light within each of us. Each piece I craft reflects quality, artisanship, and just a touch of magic.
Check out what's on the bench via Instagram!

Compassion and Sustainability are Core Values at Chase and Scout.

No living beings were harmed or killed in the creation of this unique piece of jewelry. While highly detailed and very realistic, I do not support the destruction of nature for fashion. Please see our FAQ page for ethical sourcing questions.
Custom Jewelry Artisan Crafted in Austin Texas
© 2019 E. Green. Designs and images all rights reserved.